Saturday, May 28, 2011
I was doing my early morning blog roll check and what did I see to my delight? I noticed "Ms Cupcake" in one of the blog writings. THANK YOU to Mia and Jilly at Girls with Good Taste!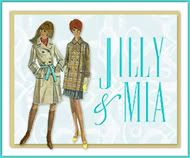 I have won a beautiful linen table runner (complete with ruffles and rosettes!) and a DVD by Shelley, How to Slipcover. I am so excited and want to thank these lovely ladies for the chance to win! Now run, don't walk over to Mia and Jilly's blog! It's superfantastic!

Read more...